Friday, May 1, 2009
Yippee! Our long awaited honeymoon finally is here. BALI will be our destination for our honeymoon. We had booked a 4D 3N package during the recent MATTA Fair. We got ourselves the earliest plan by Air Asia at 10.55am. We hopped into the taxi we called earlier and here we go to LCCT to board our plane.


LCCT here we COME!!
While we were waiting for our flight, we had our breakfast there. We had Marrybrown in LCCT. If not mistaken, this is the third time in my entire life til now I had patronized them.

Nasi Lemak set from Marrybrown
Me enjoying my cuppa coffee
After having our breakfast, we had some snapshots in LCCT since we had to wait before going in to the departure hall. So guys, some of my 'nothing to do', 'syiok sendiri' shots below....


Everyone can fly - AA..


Me and Hubby posing together b4 getting on board

We are heading here now.... T6 gate.. YOOHOOO!!
After 3 hours of flight, we finally arrived at Bali.. Hooray! We were greeted by our tour guide for this trip at the arrival hall. There are so many people (tour guides) holding cards with names. We had to take a few minutes to look thru and search for the correct one. That was hard but of coz we managed to search for the right one. Phew! We were taken to our vehicle and there's another guy who is the driver for our whole trip. I am quite impressed coz we had 2 people that takes care of our trip.


The signage that greeted us at the Ngurah Rai Airport
We were taken back to our hotel situated around Legian Street, Matahari Bungalow. We had rested awhile in our room, unpacking our stuffs. Since we had some leftover time before out guide come and pick us up for our first destination, we decided to take a short stroll around the busy street of Legian. There are many shops selling stuffs like clothings, crafts, paintings, hats, and etc along the street.
Do u realised the froggy seems to be looking at the camera?? Hehe..


Caps/hats seems to be a hot selling item here..



Different types of dresses for ladies..


It's actually a bag.. Kinda cute design..
According to local, this GOD acts as their guardian..
Hustle bustle around the street... Driving in this place definately not for the faint hearted..


Motorcyclist are spoilt with choice of many designs of helmet..
After the short stroll, we were taken to Jimbaran Bay, a fishing village for our seafood dinner. It was considered to be Bali's most idyllic beach of golden sands. One of the attractions is the daily sunset-departure of the local fishing boats. There were other tourists like us who strolled around the area. I was amazed that the whole beach was filled with seafood restaurants. Again, its snap shots session at the beautiful beach before dinner is served.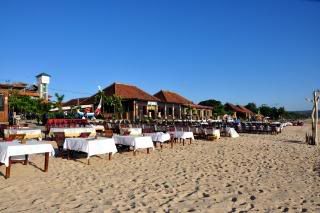 The tables all set up for diners..




Me posing here..
Pointing towards the beach.. Waiting for sunset..
Me scribbling something there..

My blog name.. :)

Hubby taking a stroll while carrying our bags..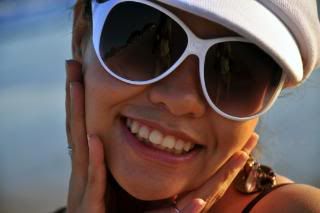 Me- close up...
Hehe.. Me again..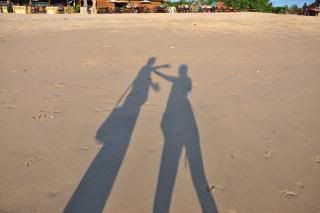 My shadow 'boxing' with Hubby's..


Hubby looking at the beach view...
Playing with water anyone?
Pitiful Hubby coz need to carry so many things..
Man and the sun...
The following are a series of photos taken before and during the sunset..
Before sunset..

During sunset.. It was so beautiful..
Us, with sunset as our backdrop..
After viewing and admiring the breathtaking sunset view, our dinner was served. We had grilled seafood for our dinner. The taste of the seafood was above average but nothing really fancy to me. We had grilled fish, 'sotong', prawns, and crab for seafood served on our platter. There is stir-fry kangkung with belacan for our vegetable selectiom and cut fruits as our dessert. We ate a grilled sweetcorn/ 'jagung' from the stalls nearby too. The 'jagung' was superb but its too dark already so I didn't snap the photos of it..
We were waiting for our food to be served..


Their famous brand of mineral water - Aqua



Cooling coconut drink

Groundnuts served before our main dish

Seafood corn soup.. Taste wise average only..
Grilled seafood platter

Stir-fry kangkung belacan

We were seated at table 6 for the nite..
After our dinner, we went back to our hotel. Of coz Bali is a place that never sleep. Therefore we decided to visit one of the pub in our hotel area for a drink. First night in Bali, we ended up with a drink of their famous local beer, Bintang beer. So stay tuned, for my next post for our second day in Bali...

Bintang Beer