Sunday, May 17, 2009
Mum had decided to change the date of shifting to our new place from the initial May 13 to May 10 instead. According to her, it's a more auspicious day for the occasion and due to convenience wise, it's better to shift during weekend instead of weekday. Me and Hubby went back to my hometown the following Friday. So I guessed I am lucky to escape most of the work load of shifting house but of course there's still some work for us to finish up during our weekend stay which is transporting 'antiques' from our paternal side old house in Kampung Baru.
I guess old folks have the tendency of keeping most of the old items in the house with the general statement: 'Cannot throw lar all these stuffs, they still can be used' and 'I know where to put the old furniture lar, don't you worry, I can find space for them'. Oh boy, these statements applies to all stuffs, you named it ranging from cookery stuffs to furnitures and even small items. I almost 'pengsan' looking at some of the old furnitures that Mum insisted to take back to our new place. Below are some of the photos taken from our new house.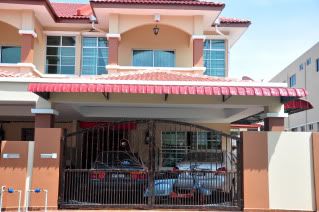 Front view



Side view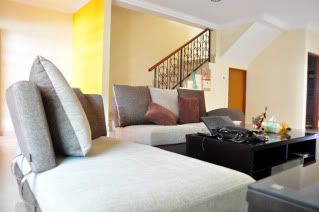 Living hall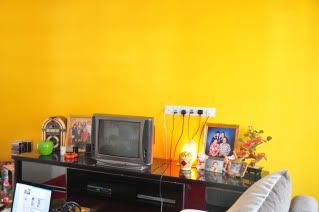 Love the colour of our living room



Dining hall cum dry kitchen
Wet kitchen

Oh ya, there's a funny moment that kept flashing back in my head while I was typing this post which was me and Hubby initially was supposed to drove Daddy back to our old place so that Daddy can ride his old Vespa back to the new place. When we reach our old place, beside the Vespa, there's still an old bicycle which belongs to me sitting there. Hubby came out with the idea of him cycling the bicycle back too. Can you just picture the scenario that moment, I was driving the car, Daddy was on his Vespa and Hubby on the bicycle. Three of us on the same route back home but with three different mode of transportation. How cute!
I was practically trailing both of them on the road. From the back I saw Daddy riding the his Vespa with so much ease and Hubby was practically sweating like a pig on the road. Haha, I think Hubby was 'regreting' his decision on hopping on the bicycle. Unfortunately during that moment, I didn't have a camera in hand to capture both of them. Fortunately, I came back just in time to snap Hubby on the bicycle. Hehe..
I finally ARRIVED!! Woohoo!!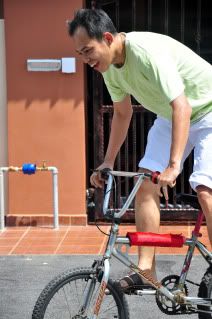 Trying to do stunts I supposed...


The 30+ year old Vespa..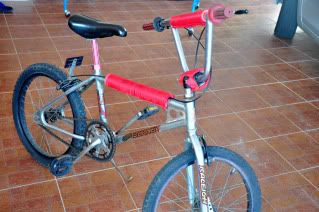 This bicycle is not 'young' too.. 20 years old