Tuesday, May 19, 2009
Today is the time of the year again where I am officially older by one year. What's my age? For those who know me

definately

knew the answer, for those who don't, well just let it remain as a mystery ya. This year is rather a special year for me since this is my first birthday celebration with Hubby after our wedding last year. For this year, he actually gave me a surprise by sending flowers to me in the office. He told me initially he planned to send the flower on my birthday but changed his plan to send a day earlier since I decided to take the day off from work. So, my surprise came a day earlier. He really caught me off guard this year. Hmmm, maybe that is my hardwork too, years of pestering him of flowers ^evil grin^. 'Muacks muacks Dear! It's so sweet of you!'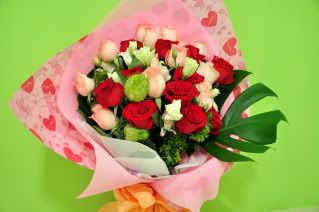 Hehe.. Can't resist but snapped the lovely flower from Hubby...
So on the night sharp at 12 am midnight, we had a mini cake cutting celebration at home. Yum yum.. The Royal Chocolate Cake was so delicious and chocolatey. Here's some of the pictures taken during our mini celebration.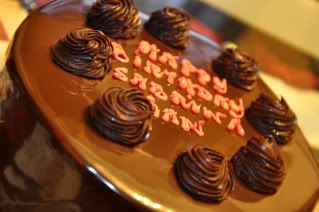 My birthday cake..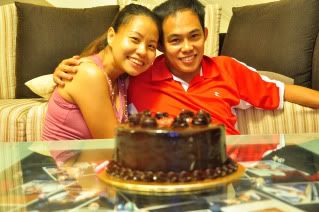 Me and Hubby together..
For this year birthday, I decided to take a day off work and lazying around the house and be a 'Queen' in the house - eat, sleep, internet and watching TVB series... All this actually equals of being a 'Piggy' at home.. Hehe.. So for the night, Hubby and I actually went to One Utama to have my birthday dinner and to catch a movie (Angels and Demons). We had our dinner in 'The Little Black Book' which offers American style food. All the portion of food was big. So we ended up stuffing ourselves full with food. So no popcorn for movie for us.. *Sob sob*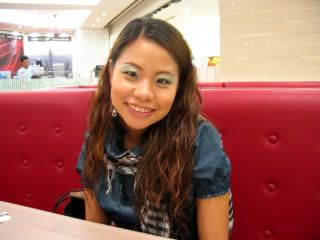 Birthday gal... :)
Of coz with Hubby...
Rootbeer with vanilla ice-cream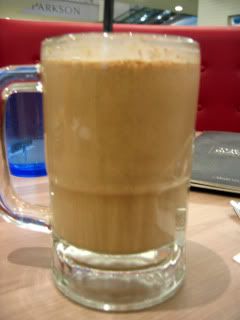 Oreo shake.. This drink can actually makes you full...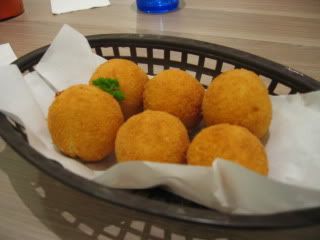 Smoky Cheesy Ball - GOOD!

Tagliatelle mushroom alfredo with crispy fish- my choice
Cheesy Chicken - Hubby's choice
Overall, the food was delicious except the pasta is a bit salty to my taste. Nevertheless, Hubby commented it tasted fine to him. After our dinner and movie, we headed home. Of ya, I can't resist snapping a picture together with my flower too when we were back home. Guessed what happened after that, the electricity was down for our housing area. What a memorable birthday for me, we ended up lighting candles at home and we found back our 'civilization' at around 3 am. Looking at the bright side, we managed to save on electricity bill for that nite.. *Kekeke*

Me before electricity was down..