Sunday, May 3, 2009
Time flies. Today it's the third day of our stay in Bali. Our itinerary today will be more towards water sport activities. Where were we heading today?Our first stop, Tanjung Benoa. As soon as we arrived at Tanjung Benoa, we were greeted by the staffs there where they passed us a list of water sport activities and of coz it's charges per activities. They were offering activities like para sailing, banana boat, jet ski, snorkeling, fly fish and even diving. For a not so adventurous type of person like me, we had chosen 2 activities only. Our chosen ones were fly fish and snorkeling. So we went to change our clothes and off we go for our first activities - fly fish. Both of us were quite nervous initially when the fly fish took off, but soon the excitement overpowers our nervousness.It feels so free when we were 'flying'. I can actually see the view of the whole beautiful beach.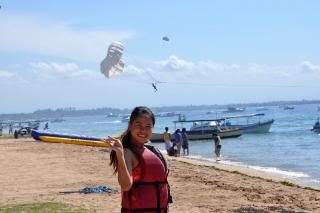 The fish started to fly already


Can you feel how HOT and SUNNY on that day?
After two rounds of fly fish, we departed to turtle island by glass bottom boat where we can watched colourful tropical fishes and coral. Before reaching the turtle island, we had stopped half way where we spend approximately an hour snorkeling. Being a scary cat who doesn't know how to swim, as expected I had some difficulties while snorkeling. Lucky me coz this time Hubby was with me, he had help me a lot. Thanks HUBBY! Muacks!
Hubby enjoying the boat ride..
My hand holding on to the boat...


There's even God statues around the island..


Boats around the island..
After snorkeling, we continued our journey to turtle island. We were taken around for a tour on the turtle island. There were different types of animals on the island. Of course, the main attraction will be turtles. Small sized turtles, medium sized turtles and big sized turtles. You named it, they have it.


Me holding the small sized ones..


Hubby playing the big sized turtles. According to the staffs there, this turtle is approximately 3o years old..

Snakes.. Eeww, I dare not touch it...


A giant 'biawak'

Hubby staring at the eagle..

The surrounding of the turtle sanctuary..

We left the turtle island and headed back to Tanjung Benoa after the turtle island tour to wash up and get ready for our second destination of the day. Of course, it's already lunch time when we finished freshen up. We were brought to Wong Solo in town for their famous 'ayam bakar'. Some of the pictures taken at the restaurant. I realised this restaurant must be a famous restaurant among the locals coz I spotted locals having their lunch there too.
Anyone interested can give them a call...


The restaurant have 2 floors to cater for their customers
Hubby getting too bored waiting, bought a local paper..


'Ayam bakar' which tasted like 'ayam percik'


'Ikan masak masam manis'
Haha, stir fried kangkung again.. I began to wonder whether is there any other types of vege around?


Wondering what's the rating for this meal? Can u guess from this photo?
After lunch, we went to Tanah Lot Temple. The word of Tanah Lot is consisted of two words that are Tanah word interpreted as a reef looking like gili or isle. Lot or Lod word has meaning the sea. So Tanah Lot is meaning the small island floating on the sea. At some nooks of coral reef around Tanah Lot Temple there are holy tame snake in black and white color where according to the local society believe that it as a deity property and as the guard of the temple from the bad influence.
We posing together at the start point


Posing in front of the temple..


Can you spot another small crab here?
Me beside the temple..



Looked in front?
Looked left?
Oh well, I shall just pose here... :)


We were lucky when we arrived coz it was still not high tide yet..


Sea water gushing in already..


Still busy posing while water were rising...

Hubby was here... 'Conquering' Tanah Lot


Of coz with me also lar...



We were actually waiting for the time for sun set. That explain the reason with so many posing session pictures here. The main 'actor' finally arrived. We shall let the photos explained for themselves.
After watching the sunset, it's time for us to leave Tanah Lot. Dinner time again. Tonight, it's western food in a restaurant in town. The ambience of the restaurant was very nice and Balinese 'feel' too. For the first time, we had pork in a western restaurant. Hmm, maybe that was because majority of the population in Bali were Hindus. So there was no taboo about pork.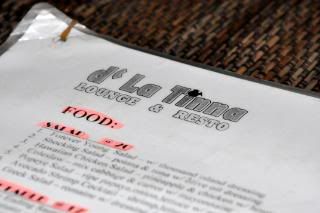 d' La Tinna - the restaurant name

The mushroom soup is too watery for my liking..
Refreshing ice lemon tea

Classic Pork Spare Ribs.. THUMBS UP!
Chocolate pudding for dessert
After a satisfying dinner, it was time to be back to our hotel. As usual, we bathed and went out again. But this time with a mission - to buy a painting which we saw earlier on our first day here. So stay tuned for my last post for our Bali trip soon.