Friday, May 22, 2009
I had first taste Roti Babi in Restoran Yut Kee in KL. Therefore when I saw this particular recipe, it really attracts me to try it. It is almost similar to the one in the restaurant, but it's more crunchy since breadcrumb was used to coat the bread before being deep fry. The verdict - I *heart* my own creation more than the one in the served in the restaurant.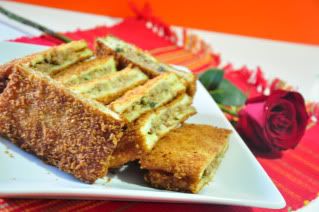 Eat it while it's hot.. *Drools*...
Crispy outside, warm inside...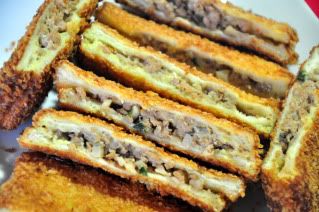 Ingredients
4 eggs, mixed with a little salt, pepper and lightly beaten
1 onion, peeled and chopped
4 black mushrooms, soaked and chopped
4 water chestnuts, peeled and chopped
2 tbsp spring onion, chopped
1/2 tsp five spice powder
1 tsp corn flour, mixed with 1 tbsp water (thickening)
Heat up oil. Saute chopped onion and garlic until fragrant.

Add in mushrooms, minced meat and stir-fry until aromatic.

Add in water chestnuts, seasoning and stir well. Add in chopped spring onion and thicken with corn flour water. Dish up and leave to cool.

Spread some filling onto a piece of white bread and sandwich with another piece of bread. Dip into beaten egg and coat with breadcrumbs.

Deep fry in hot oil until golden brown. Dish and drain. Cut into pieces and serve hot.